The surronding region of Belluno valley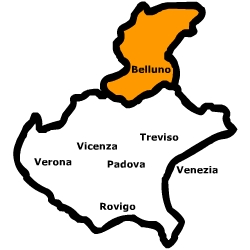 The crisis is spreading out
The crisis that is now concerning the brewery of Pedavena, is part of a larger problem involving many workers of the valley and of the district of Belluno, thus drastically reducing the buying power of the population, with all the negative consequences that are implied.
Non positive signs in some fields such as the textile one, with the Intersocks events (60 people on social mobility), Olcese (118 people), Orlandi (113 people), San Marco (25 people with a solidarity contract) and in other fields Kiwi (50 people) are calling for caution. Then Surfrigo, which wants to save, unites the accounting offices.
The employments lost or being lost by the eye-glasses industry (only in Cadore 7000 positions lost from 2001 to 2003, on a total number of 20000 and other 500 in 2004), are not going to be reabsorbed by the metal and mechanical industry, which is in a static situation.
At the end of 2002 the unemployment rate of the district of Belluno was at 3%, among the lowest in Italy and the lowest in Veneto; up to now it has reached the 4,7%, the highest in Veneto and there is a dripping of small firms which are closing down or are cutting off their staff. The most negative forecasting would show 2000 positions at stake.
Sources: CGIL Belluno web site, Corriere delle Alpi dd. On 07.12.04, Il Sole 24 Ore dd. On 09.12.04.