Brewery of Pedavena: is it the end?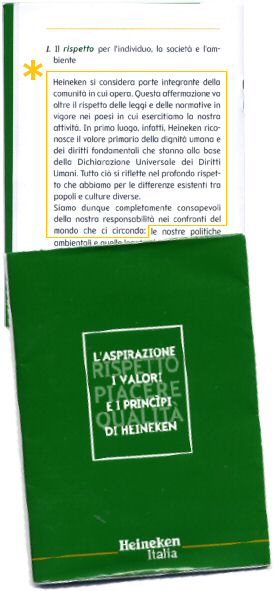 * Heineken considers itself integrated part of the community where it operates. The meaning of this phrase goes further than the simple respect of laws and rules of the Countries where we work. First of all, in fact, Heineken recognizes the importance of human dignity and of the rights that are the base of Human Rights Universal Declaration. All this means that we have a deep respect for the different people and cultures. We are completely conscious of our responsibility for the environment that surrounds us."
From the " Corriere delle Alpi" - Friday 24 September 2004:
Who writes is an employee of that historical brewery known all around Italy. One of the very few last in this Country that still can be called in that way. A patrimony for the society in which it is placed, a professional and cultural patrimony as few still present in this kind of activity.
More than a hundred years of history accompanied the development of this structure and with it the community around it lived, grew up, developed itself, enriched itself, of course not only in economical terms. In these days it's common knowledge that the owner (the usual "multinational") decided to dismiss the production in the site of Pedavena. The reasons given are some not well specified "strategical choices".
The factory of Pedavena has always been a focal point for the whole Group Heineken Italia; here brewers and technicians have been grown, that brought then their brewing knowledges in the other units of the group, the most part of the recipes of the various brands owned and distributed by Heineken here have been created and defined. We always accepted any kind of challenge, working and developing new products, new packaging, new systems and, last, but not least, new kind of working organization. Nearly everything has been tested in Pedavena and then exported in the other sites.
Now this enormous patrimony of brewing culture is useless: let's throw it away!
It sounds like the well known tale of the teacher doubled by the student and, as it often happens, once doubled the teacher, the student forgets him...
I wish for myself and my colleagues that there will still be space enough to solve in a way or another the situation and enlarge the wish to the whole population of Pedavena as well, hoping that it won't be constraint in a few months time to walk near the historical chimney saying "once that was a brewery".
Stefano De Carli
... and if you want to know more about it, but especially if you would like to help us, keep surfing in the next pages!